How To Find AV Receiver That's Right For You
SKU:
How To Find AV Receiver That's Right For You
Sold out!
Nothing beats surround sound for movies and TV – and surround sound starts with a home theater receiver. But a receiver can give you a lot more than that. We'll walk you through the most important and coolest features so you know what to look for.
Covering the basics
A home theater receiver (also known as an AV receiver) brings immersive, theater-like surround sound to your living room. It acts as a connection hub for a variety of audio, video, and internet streaming sources. And it uses video processing and surround sound decoding to make movies and TV look and sound their best.

A receiver routes incoming video signals from your cable box, Blu-ray player, and other devices to your TV. At the same time, it directs the audio from these devices to your speakers.
How much power do you need?
Home theater receivers have built-in multi-channel amplifiers to power a full complement of surround sound speakers. How much power do you need? The ideal wattage for your receiver depends on the size of your room and the power requirements of your speakers.

You'll often see a range of acceptable wattages to power a given speaker. To get the clearest sound with minimal distortion, aim for the high end of this range.
What kinds of inputs and outputs do you need?
Look at the back panel of any AV receiver and you'll find lots of different connections for audio and video components. Most of your gear will connect to your receiver via HDMI cables, which carry both audio and video signals.

To allow for system expansion, get a receiver that has more HDMI inputs than you need right now. Want to connect two TVs? Look for a receiver that has more than one HDMI output. Check out our article on multi-zone video for more information.
If you have audio components without HDMI connections, an RCA or optical digital connection is your best bet.
How many channels do you need?
We usually recommend receivers with at least seven channels. Even if you're just starting with a pair of speakers or a 3.1 system, you can always add more as your budget permits.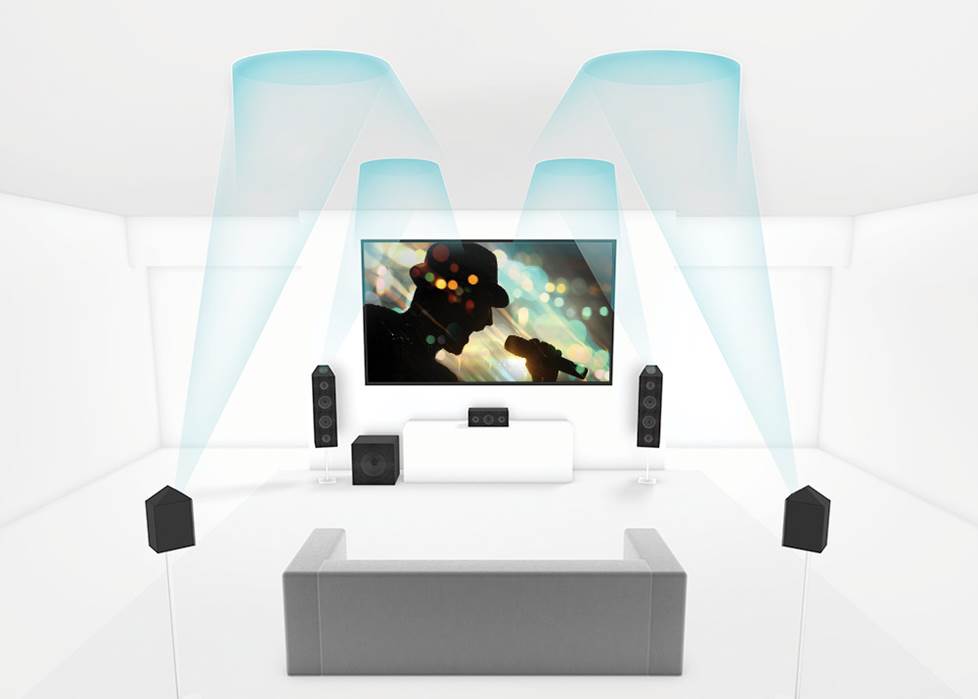 With seven or more channels of power, you can play cutting-edge surround sound formats like Dolby Atmos and DTS:X. They use in-ceiling speakers or special up-firing speakers ( Atmos Enabled Elevation Speaker ) to project sound from the ceiling.
Want to listen to music out on the patio? Get a seven-channel receiver and you can use five channels for surround sound and two channels to hook up a pair of stereo speakers outdoors or in another room.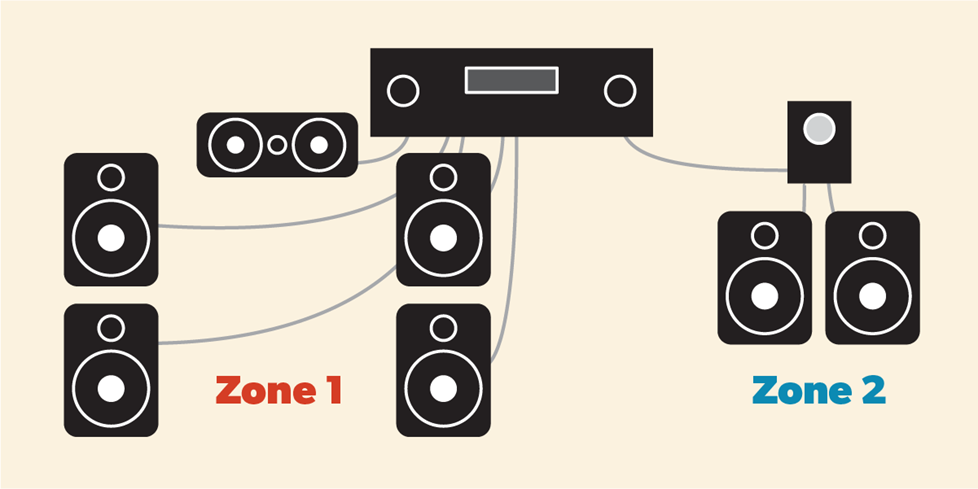 Most A/V receivers can provide power to at least two zones.
Get the right fit
You may need to think about how your current living room setup will accommodate an AV receiver.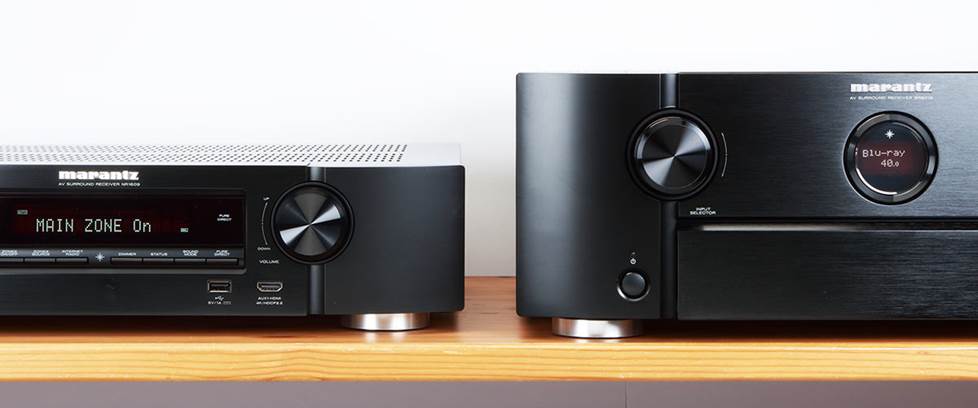 A slimline receiver like the Marantz NR1609 (left) is about half the height of a typical home theater receiver (right). It's perfect when space is at a premium.
Advanced features
AV receivers are great for hooking up all kinds of audio components, but your music choices don't stop there. You'll find plenty of AV receivers with built-in support for popular streaming services like Spotify, Pandora, and TIDAL.
Receivers that have built-in Bluetooth let you play anything you want from a Bluetooth-equipped phone, tablet, or computer.
Home theater receivers can reproduce top-quality audio, so naturally most of them are compatible with popular high-resolution audio formats like FLAC and DSD.
Wireless multi-room music
Many receivers work with multi-room music platforms that let you stream music to compatible wireless speakers you have set up throughout your home. You can create different zones and control what's playing in each room with an app on your phone or by using voice commands.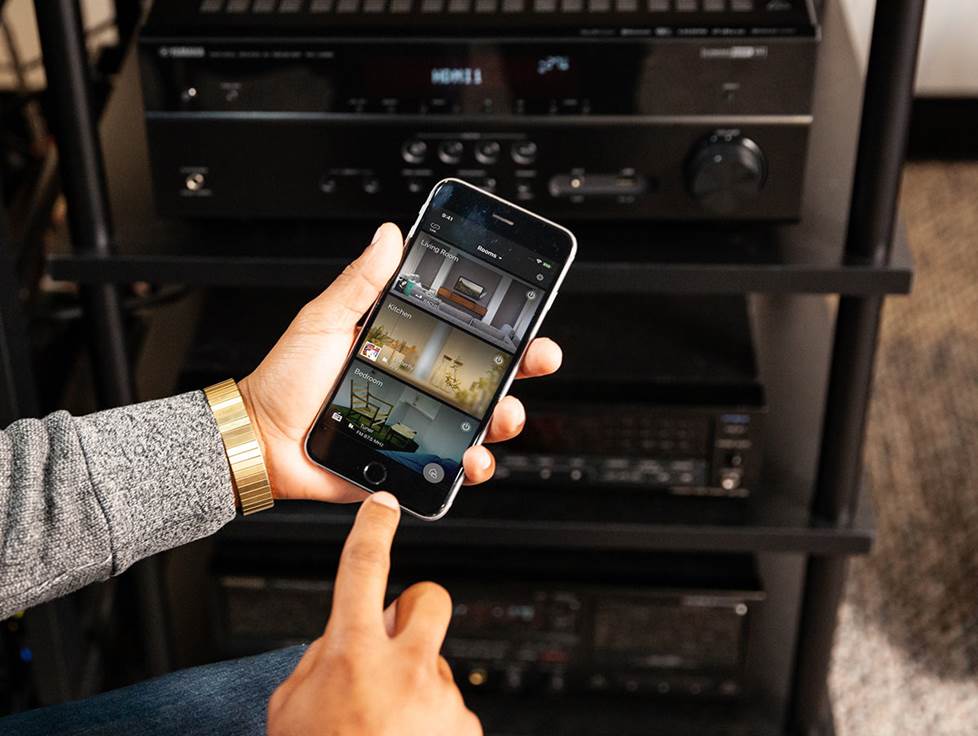 Receivers with wireless multi-room capability work together with compatible wireless speakers in other rooms.
How about wireless surround sound?
Customers have been asking us about wireless surround sound for years, so we're very excited that technology has finally advanced enough to make it a reality. We expect to see more and more wireless surround sound solutions in the coming years, but there are a couple of compelling options already.
All Yamaha MusicCast receivers from 2018 on support wireless surround sound with the addition of MusicCast 20 or MusicCast 50 wireless speakers.
Denon's HEOS AVR is a 5.1-channel receiver that lets you connect two HEOS wireless speakers to its left and right surround channels for wireless surround sound. You can also wirelessly connect a HEOS-compatible subwoofer.
Convenient control options
The remote controls included with most home theater receivers have extensive options for switching sources and dialing in settings.
Many remotes have "scene" buttons, which are presets for specific activities like watching TV or listening to the FM radio. Press a scene button to select the source and all the settings you need to enjoy it.
Scene-button shortcuts make life easy for guests, babysitters, or anyone else who doesn't want to learn how to operate your system. Receivers typically come with a few pre-programmed scenes. You can easily edit them and add new ones.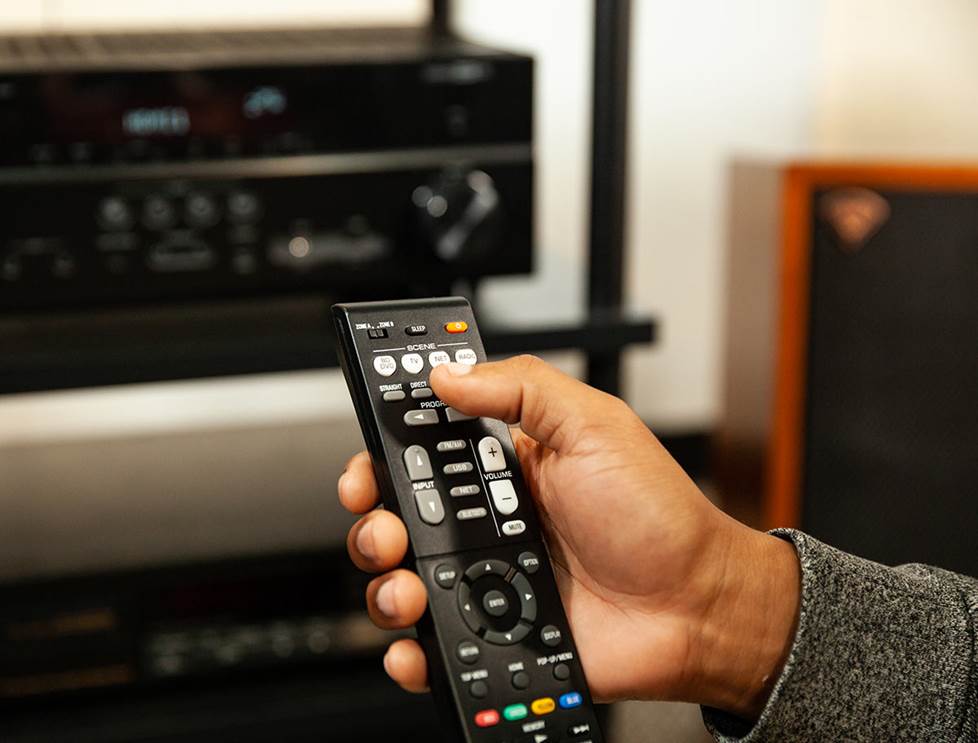 Convenient "Scene" buttons on a receiver's remote let you quickly fire up your favorite sources and settings.
App control
Just about every AV receiver with network capability offers a free app to use your phone or tablet as a remote. They make it easy to switch sources, adjust the volume, tweak settings, and stream music from online sources.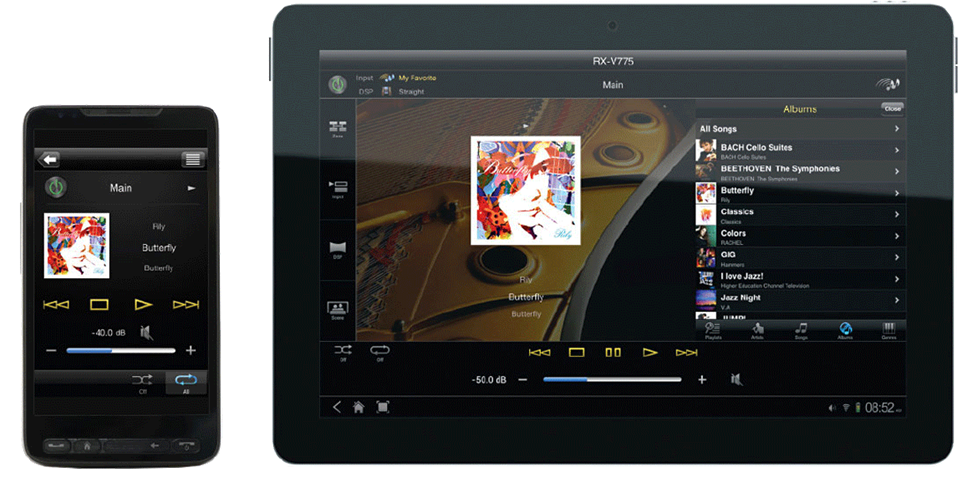 Remote apps are the easiest way to control your receiver's multi-zone features. You can choose which rooms to play music in, and select the music for each room.
Voice control
Voice control integration adds a new level of convenience to today's home theater receivers. When you don't have your phone or remote handy, you can just speak.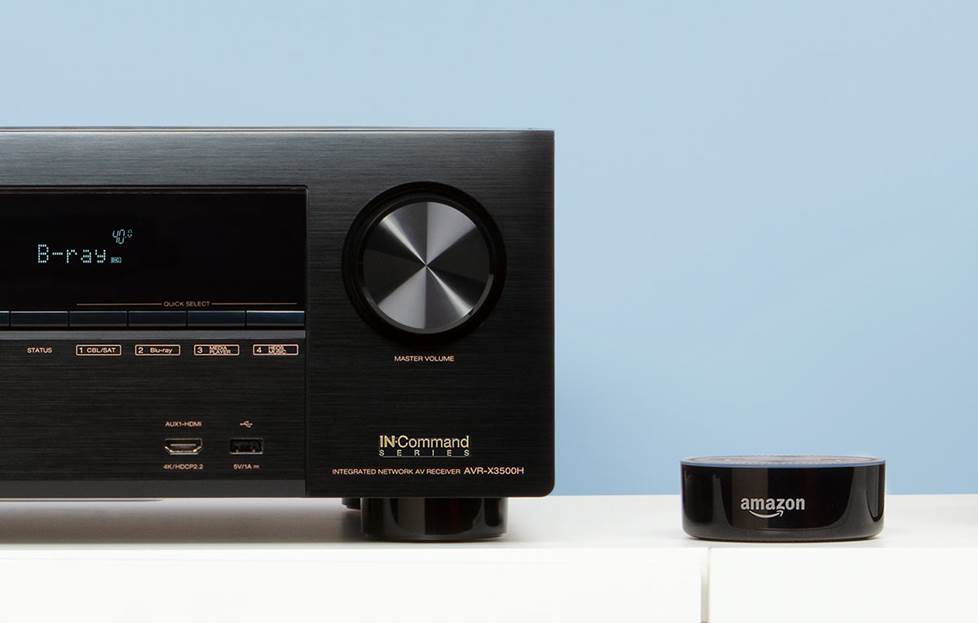 Receivers with voice control capability work together with voice-activated virtual assistants like the Amazon Echo Dot for easy control of your A/V system.
Some receiver models support voice control with Amazon Alexa, and others support Google Home voice control. Whichever your preference, you can use verbal commands to:
power your receiver on or off
control volume on the receiver
play and pause music; skip or go back to the previous track
mute/unmute the receiver
change the receiver's input selection
link or unlink rooms in a multi-room music setup
control music playback in different rooms
Whether you use Alexa or Google Home, voice control functionality is constantly improving. Alexa is always acquiring new skills and the Google Assistant gets smarter all the time.
We're here to help
Have questions about hooking up your new receiver?
Please Do Not Hesitate To Contact Our Team
Fong : 016-3098668
Peter: 012 2536225
Rick : 017-2349074
Please Check Out Here For All Av Receivers We Have https://www.stylelaser.com.my/category/av-receiver/
Copy From Crutchfield