Denon AVC-X8500H 13.2 Channel AV Receiver Made In Japan
SKU:
Denon AVC-X8500H
13.2-channel Home Theater Receiver With Wi-Fi®, Dolby Atmos®, DTS:X™, and HEOS Brand New

Please choose your preferred New Speaker (bookshelf/floorstanding) and New subwoofer using FREE Voucher
We accept trade in your old system
* Free Rm1000 Voucher For New Speaker (Valid For 6 Months)
* Free Rm500 Voucher For New Subwoofer (Valid For 6 Months)
* One voucher redeemable for each product *

Magazine & Youtube Review Available Now, Please Press Review Button Below.

Get it with 0% Credit Card Instalment Plan Up to 36 months
1) Maybank Credit Card up to 12 months ( Lazada )
2) Maybank Credit Card up to 18 months ( Shopee )
3) PBB Credit Card up to 12 months ( Shopee )
4) OCBC Credit Card up to 36 months ( SLAV )

Denon AVC-X8500H
The Denon Flagship AVC-X8500H powers the next generation of home theater with the world's first 13.2 channel AV Amplifier that supports the latest immersive audio formats, including Dolby Atmos, DTS:X and Auro-3D. Built-in HEOS technology supports Amazon Alexa* and takes music listening to the next level with wireless whole-home audio.
Now available – control with Amazon Alexa voice commands.
POWERFUL 13.2 CHANNEL HOME THEATRE EXPERIENCE
The AVC-X8500H ushers in a leading-edge home theatre experience with 13 channels of built-in amplification to enable premium 3D surround sound up to 7.2.6 without external amplification and supports latest 4K Ultra HD picture standards.
SUPPORTS THE LATEST SUROUND AUDIO FORMATS
Immerse yourself in multi-dimensional sound — the Denon AVC-X8500H powers Dolby Atmos, DTS:X and up to 13.2 Auro-3D formats. Auro-3D will be enabled via future firmware update at no additional charge.
READY FOR THE FUTURE OF HOME THEATRE
The AVC-X8500H's advanced video section is fully compatible with the latest HDMI and HDCP 2.2 specifications and prepared for any 4K Ultra HD source. High Dynamic Range (HDR), Dolby Vision compatibility, Hybrid Log Gamma (HLG) and eARC (enhanced Audio Return Channel) are supported as well. You can also enjoy ultra-high-definition pictures from legacy analogue and digital sources.
THE HEART OF YOUR WIRELESS AUDIO NETWORK
Every sound, all your music, controlled effortlessly. Full wireless connectivity is provided via Bluetooth and Wi-Fi. The AVC-X8500H works with Apple Airplay and Amazon Alexa*, bringing cutting-edge voice control and incredible sound to all your home entertainment. The built-in HEOS technology allows the AVC-X8500H to become the app-controlled heart of a whole-house wireless sound network.
*This feature becomes available in Spring 2018. Availability varies by country.
PERFECT SET-UP FROM THE START
The AVC-X8500H easily guides you through the set-up process to ensure the most accurate configuration and lets you optimise all settings for the best possible sound and video quality. The most advanced Audyssey MultEQ XT32 room measurement system guarantees the best sound in every room.
BLOCKBUSTING 3D-SOUND
Surround yourself in cinema-grade sound from literally any direction.
DOLBY ATMOS
SOUND IN THE RIGHT PLACE
Immerse yourself in multi-dimensional audio with Dolby Atmos. Enjoy a 7.1.6 or 9.1.4 surround sound speaker system with as many as 6 overhead speakers or Dolby Atmos elevation speakers for the ultimate home theatre experience.
DTS:X
BE CLOSER TO THE ACTION
DTS:X™ immersive audio places sound where it would occur naturally in space, creating a lifelike, multi-dimensional audio experience in the home. The improved immersion and heightened realism draw you into the world of your favourite movies. The included DTS Neural:X™ gives your movies, games and music a realism unmatched by traditional 5.1 surround sound.
IMAX ENHANCED
IMAX ENHANCED TECHNOLOGY
Get the most premium at-home entertainment experience with IMAX Enhanced—the latest technology program from IMAX that sets a new standard for image, sound, scale and content quality. Watch clearer pictures and brighter images. Feel immersive, heart-pounding audio delivered by DTS. See more picture on the largest screens. And experience premium content digitally remastered by IMAX.
FEEL THE POWER OF LIFE-LIKE SOUND
Auro-3D provides an immersive surround sound experience thanks to dedicated height and overhead channels, in addition to traditional channels supporting up to a 13.2 configuration. Formatting identifies sound objects individually and projects them to different spaces in your listening environment, creating an immersive, three-dimensional sound stage. Auro-3D will be enabled via a future firmware update at no additional charge.
AURO-3D
FEEL THE POWER OF LIFE-LIKE SOUND
Auro-3D provides an immersive surround sound experience thanks to dedicated height and overhead channels, in addition to traditional channels supporting up to a 13.2 configuration. Formatting identifies sound objects individually and projects them to different spaces in your listening environment, creating an immersive, three-dimensional sound stage. Auro-3D will be enabled via a future firmware update at no additional charge.
GEARED UP FOR 4K ULTRA HD
Enjoy ultra-high-definition pictures, even from analog and digital SD sources.
LATEST HDMI SPECS WITH EARC
FUTUREPROOF IN ANY WAY
All eight HDMI inputs (including one on the front) and three HDMI outputs feature HDCP 2.2 compatibility and the latest HDMI specifications, including 4K Ultra HD 60Hz video, 4:4:4 Pure Colour sub-sampling, High Dynamic Range (HDR) and 21:9 video, 3D, and BT.2020 pass-through support. It is even ready for Enhanced Audio Return Channel (eARC) for 3D audio playback through TV apps. The eARC feature will be enabled via a future firmware update.
ADVANCED VIDEO SECTION
BREATHE NEW LIFE INTO LEGACY SOURCES
The AVC-X8500H boasts an advanced video processor to upscale existing lower resolution video from any analog or digital source to true 4K. With three HDMI outputs, you can even connect a TV and a projector in the main room, while playing back different content on a second zone screen.
HDR / DOLBY VISION
NEXT GENERATION VIDEO FORMATS
The AVC-X8500H supports High Dynamic Range (HDR) video format. It is even ready for Dolby Vision and HLG (Hybrid Log Gamma). Dolby Vision transforms the viewing experiences with astonishing brightness, contrast, and colour. HLG offers HDR technology over broadcast content.
SET-UP AND CONNECT WITH EASE
Get your AVC-X8500H up and running in no time, perfectly tailored to suit your needs.
LATEST HDMI SPECS WITH EARC
FUTUREPROOF IN ANY WAY
Equipped with the full Audyssey Platinum suite of advanced DSP algorithms, the AVC-X8500H features Audyssey MultEQ XT32 automatic room acoustic correction. With the supplied measurement microphone, MultEQ XT32 analyses each speaker's output (including the subwoofers) at up to eight measurement locations and generates precision digital filters that optimise each channel for the correct frequency and time domain response. Plus, the optional available Audyssey MultEQ Editor app lets you view and adjust settings for detailed tuning and customize the sound more precisely to your room and tastes.
UNWIRE YOUR SOUND
Featuring Bluetooth and Wi-Fi wireless streaming connectivity, the Denon AVC-X8500H is equipped with an advanced dual antenna transceiver system for robust streaming even in congested urban environments. Plus, with Apple's AirPlay compatibility, you can enjoy listening to your favourite audio content wirelessly from your iOS devices such as an iPhone or iPad.
Built-in HEOS technology lets you enjoy your favourite music in any room of your home for a wireless, whole-home audio experience. Play the same song in every room, or select a different song for each connected room — the choice is yours. Also works with Amazon Alexa*, providing cutting-edge voice control.
*This feature becomes available in Spring 2018. Availability varies by country.
DENON + HEOS APP
EVERYTHING IS UNDER CONTROL
With the "Denon 2016 AVR Remote" app you can control the receiver's operation and even control your connected Denon Blu-ray player.
Easily control your music and multi-room streaming within the HEOS app, or use your voice for Amazon Alexa Voice Control*.
*This feature becomes available in Spring 2018. Availability varies by country.
QUICK SELECT
CHOOSE YOUR FAVOURITE SOURCES BY QUICK SELECT
Store your preferred set-up and sound mode for every source — jump right to them by the push of a button on the front panel or via the remote control.
SMART TV
SMART TV CONNECTIVITY
Control your Denon AVC-X8500H with your Smart TV remote via the HDMI CEC functionality associated with your Smart TV. Simply set "HDMI Control" to ON in your receiver, then set "Smart Menu" to ON and begin controlling the AVC-X8500H with your TV remote. The Smart Menu home screen provides you quick access to source and surround mode selections, the AVR's setup menu and four Smart Selects.
ADVANCED SOUND PROCESSING
Experience extraordinary sound quality from both music and movies.
DSP
POWERFUL DSP AUDIO PROCESSING
The AVC-X8500H owns a sophisticated DSP audio processing system that incorporates two latest generation high performance dual core SHARC DSP Griffin Lite.
HIGH RESOLUTION AUDIO
ENJOY SUPERB AUDIO FIDELITY
Discover the incredible fidelity of high-resolution audio tracks with the ability to decode up to 24-bit/192-kHz ALAC, FLAC and WAV lossless files as well as DSD 2.8MHz and 5.6MHz tracks (the audiophile format of SACD) via the front panel USB port and network sources. Or, listen to other popular file types such as MP3.
AL32 PROCESSING
UNIQUE DENON AUDIO TECHNOLOGIES
AL32 processing multi-channel provides ultra-high-resolution digital audio filtering and precision for all audio channels, delivering a natural soundstage with enhanced imaging. For content recorded in multi-channel, such as Blu-ray discs, the recorded low frequency effects (LFE) may be out of sync and delayed. Bass Sync technology corrects such a delay of low frequency effects for the perfect audio experience.
32-BIT D/A CONVERSION
BEST POSSIBLE SOUND STAGE
For optimum fidelity and the widest dynamic range with lowest distortion, the Denon AVC-X8500H features advanced reference-class 32-bit AKM AK4490EQ stereo D/A converters for all channels. The total number is eight. Enjoy consistent high-fidelity and precise channel matching across all channels for the ultimate listening experience.
GET THE AMAZING HEOS EXPERIENCE
Enjoy your favourite music from anywhere and everywhere around your home. Share music stored on your home network, streaming services with HEOS wireless speakers or even other HEOS-capable receivers and listen throughout the whole house. Control it all with the free HEOS app. Enjoy music from TuneIn, Internet Radio and a wide range of streaming services including Spotify®, Amazon Prime Music, Soundcloud®, Juke, Tidal, Napster, Deezer or Mood Mix.
HEOS + ALEXA – SPEAK YOUR COMMANDS.
Use your voice to stream your favourite music services to this HEOS-enabled device. Ask Alexa to play music from Amazon Music, Spotify, and more. You can also turn the volume up or down, pause, mute and play the next song — all with your voice.
To start streaming with Alexa voice commands, open the Alexa app and select "Skills." Add HEOS Home Entertainment to enable. Then, go to Smart Home in the Alexa app menu and choose Devices and Discover or say "Alexa, discover my devices."
With HEOS Home Entertainment and Alexa, you can stream to this product and any other HEOS-enabled device. Play music from Amazon Music, Spotify, and TuneIn with more streaming services also to come. All you have to do is ask.
EXTERNAL CONTROL AND IP CONTROL CAPABILITIES
The AVC-X8500H is equipped with feature-rich enhanced control capabilities and compatibility with third-party and custom integration solutions.
The AVC-X8500H features IP control capability for an integration with major third-party control devices and Control4 SDDP (Simple Device Detection Protocol) certification for quick and easy integration with Control4 home automation equipment. For direct connection to external home automation and control equipment, it's also equipped with an RS-232C serial port.
For simpler integrated control set-ups, the AVC-X8500H features an IR (infrared) remote control input on the rear panel, allowing remote control compatibility with other components in your home theatre system.
Denon AVC-X8500H Specifications
MULTICHANNEL SURROUND
Features DTS Neural:X
Dolby TrueHD / Dolby Atmos
Auro 3D
Multichannel Stereo
DTS HD Master
DTS:X
Max Number of Processing (Preamp) Channels 13.2
NETWORK
HEOS Multiroom and Streaming Yes
Lossy Formats MP3
WMA
AAC
Lossless Formats FLAC
ALAC
WAV
DSD Audio Streaming up to DSD5.6
FLAC HD 192/24 Yes
WAV 192/24 Yes
Gapless Playback FLAC, WAV, ALAC, DSD
AirPlay Audio Streaming Yes
Compatible with Remote APP for Smart Phones Android / iOS
Compatible with Remote APP for Tablets Android / iOS / Amazon Kindle
Connectivity Ethernet Ports
Wi-Fi
Bluetooth
Internet Radio TuneIn
Spotify Connect / Tidal / Deezer / Others Yes
Lossless Formats FLAC HD 192/24
WAV 192/24
ALAC 192/24
ALAC 192/24 Yes
HDMI
HDMI Inputs: Back / Front 7 / 1
HDMI Outputs: Main / Zone 2 / 1
HDCP 2.2 Support Yes
Analog to HDMI Scaling up to 4K 60/50
HDMI to HDMI Scaling up to 4K 60/50
MULTIROOM / CI
Multi-Room Zones 3
Zone Audio Source HDMI (2ch)
Opt, Coax (2ch)
Network, USB
Analog
Zone Audio Output Speaker / Preout
Zone HDMI Output from HDMI Source Yes
IP Control / RS232 Control / App Control Yes
DC Trigger Output 2
HEOS Multiroom Integrated Yes
TV Sound Grouping Yes
INPUTS / OUTPUTS
Composite In / Out 4 / 2
Component In / Out 3 / 1
HDMI In / Out 7+1 / 3
Multi-room Video Out Video / HDMI
Analogue In 6+
Phono (MM) In Yes
Digital In: Optical / Coaxial 2 / 2
Multi-Room Out Analog
Multichannel Preout 15.2
Subwoofer Out 2 (independent)
7.1 Multichannel Input Yes
Speaker Terminal Gold Plated Screw
Number of Speaker Terminals 15
Speaker A/B / Bi-Amp Drive / Multi-Room Speaker Assignable
Front Inputs HDMI / USB
USB Audio / Made for iPod / Made for iPhone Yes / AirPlay / AirPlay
SPECIFICATIONS
Number of Poweramps 13
Power Output (8 ohm, 20 Hz - 20 kHz, 0.05% 2ch Drive) 150 W
Power Output (6 ohm, 1 kHz, 0.7% 2ch Drive) 190 W
Power Output (6 ohm, 1 kHz, 1% 1ch Drive) 210 W
GENERAL
Metal Front Panel Yes
System Remote Control RC-1221
Pre-programmed / Learnable / LCD Display Yes
Power Consumption 900 W
Power Consumption No-Sound (ECO On / Off) 70 W / 125 W
Standby Consumption 0.1 W
CEC Standby Consumption 0.5 W
Maximum Dimensions - Antenna Horizontal (W x D x H) 434 mm x 482 mm x 195 mm
Maximum Dimensions - Antenna Vertical (W x D x H) 424 mm x 482 mm x 259 mm
Maximum Dimensions - Without Antenna (W x D x H) 434 mm x 472 mm x 195 mm
Weight 23.3 kg
Network Control On Consumption 3.7 W
Packaging Info
Package Weight 60.05 lb / 27.3kg
Box Dimensions (LxWxH) 22.6 x 21.6 x 13.4"
Denon AVC-X8500H review
Can Denon's flagship AV amplifier justify its premium price tag? Tested at £3499
By What Hi-Fi? August 29, 2018 Review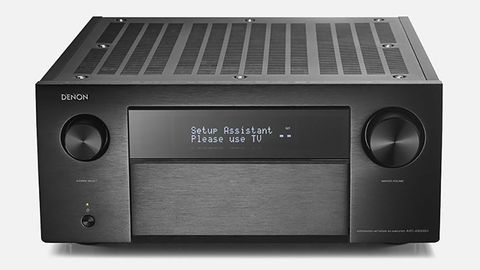 OUR VERDICT
A powerhouse performance from a flagship amplifier with features to match
FOR
Immense scale of sound
Powerful, muscular presentation
Detailed, clear and excellent surround sound steering
Solid, hefty build
Easy to use
AGAINST
Presentation could be more agile and rhythmically precise
POWERED BY
Denon's flagship AVC-X8500H is a mammoth AV amplifier. Weighing 23kg, with a large-scale and powerful sound and 13 discrete power amp channels, the £3499 AVC-X8500H is sure to impress AV fans hoping to go big on their home cinema.
Denon claims this is the first fully 13.2 channel amplifier on the market – one that allows you to set up a 7.2.6 or 9.2.4 Dolby Atmos system without needing a second power amplifier for the extra channels. That alone might tempt hardcore AV fans looking to kit out the ultimate home cinema room, but the Denon's expansive, muscular scale of sound is another draw.
MORE: Dolby Atmos: What is it? How can you get it?
Sound
We haven't tested a flagship amplifier of this calibre in a while, so we put on a couple of our favourite classic test discs: The Dark Knight and The Matrix in resplendent 4K Blu-ray.
The Denon AVC-X8500H bursts into life during the corridor scene in The Matrix. The rapid gunfire and exploding concrete pillars make a glorious noise: loud, brawny, and punchy.
The scale of sound is immense. The X8500H has no problem filling a large room, with sound effects careering around you effortlessly. Scenes in a room have space to breathe, while rooftop shots feel vast and engulfing. With most amplifiers, there's usually a lid on the soundfield, but the Denon soars beyond any expected boundaries.
The techno soundtrack is thumping and bassy, and the sparse dialogue cuts through the action cleanly. Despite the impactful sound, the Denon amplifier keeps its composure even when things go too loud.
MORE: 4K Ultra HD Blu-ray: all the discs on sale and coming soon
There are elements here that we loved in last year's flagship, the Denon AVR-X6400H, including clarity and subtle detail, and it's combined with a large dose of extra muscularity and power in the X8500H.
Punches in The Dark Knight hit like a clear and precise sledgehammer. Bullets hit with forceful impact and glass shattering is piercing, but the top end never goes bright enough to make you wince.
For some, this is exactly the balance they're looking for in a home cinema amplifier: big scale, punchy impact, loud and powerful. For a flagship amplifier costing £3499, we want to be blown away in every single way – but the Denon ABC-X8500H doesn't quite pull out all the stops.
For instance, the high-pitched, insistent whine accompanying every Joker scene should rise to a clear, unbearable crescendo that puts your teeth on edge, but the Denon AVC-X8500H holds back, dulling the sound. That strict, staccato rhythm charging through the opening bank robbery scene should be more precise to fully convey the mounting tension.
Read our Denon AVR-X6400H review
With the added muscle, the X8500H seems to have traded in a bit of the AVR-X6400H's agility and rhythmic precision. The latter sounds more expressive, adding sparkle and attitude to dialogue that the X8500H doesn't quite convey.
It's arguably more engaging too, offering a snappy and agile sense of momentum that drives a tense scene along. But it's also much smaller-scaled and thin-sound compared with the beefy X8500H.
This new Denon amp falls just short of being a true belter; it holds back on that last ounce of excitement in favour of a more composed sound. And that's a shame, as we'd expect the new flagship to be a clear step above the previous one in every aspect of its performance.
MORE: How to set up your AV receiver and get the best sound
Build
The AVC-X8500H looks like every other black, rectangular AV receiver, but the build quality is solid as a rock. There's something reassuring about a solid, hefty piece of kit, although you might need help lifting the bulky amplifier out of its box.
It's built predominantly out of thick metal, with a substantial block of aluminium for the front panel flap feeling suitably impressive. The control knobs turn smoothly, and everything feels of a high quality. The responsive remote control is similar to the one found with the X6400H, but this one is backlit – that's always helpful when the lights are down.
Advertisement
Setting up the Denon is a doddle. Plug in the set up mic, tell the amp exactly which configuration of speakers you have (select whether you're using one or two subwoofers in the 'channel select' menu), run the calibration process at least three times for different listening positions (you can do up to eight) and then double check the results.
The X8500H's speaker size, distance and level measurements are spot-on – so much so we didn't really feel the need to recheck using an SPL meter.
MORE: 11 of the best film scenes to test surround sound
Features
Putting the X8500H's sonic performance to the side, having 13 discrete channels in one box is obviously the main highlight. It allows you to install six or four Dolby Atmos speakers on to a 7.1 or 9.1 speaker set-up, respectively, for an incredibly immersive bubble of home cinema sound. The amp also supports DTS:X up to five and seven channels, with support for the full 13 channels coming soon.
The back of the amplifier is entirely taken up by inputs and connections; you won't find a spare inch amidst the 13 colour-coded speaker terminals and multiple analogue and digital connections.
The Denon flagship's eight HDMI inputs are all HDCP2.2 certified, meaning it will handle native 4K/60p content and the most popular HDR variants (HDR10, Dolby Vision, HLG). If that isn't cutting edge enough for you, Denon promises a future hardware upgrade to accommodate HDMI 2.1 – the next-gen spec which will allow passthrough of 8K content.
MORE: HDR TV: What is it? How can you get it?
It also has three HDMI outputs, along with plenty of analogue AV connections, a handful of optical and coaxial inputs, a moving magnet phono input and a USB port in the front panel.
On the streaming side, the Denon amplifier supports everything from Bluetooth and AirPlay (AirPlay 2 is support coming shortly) to Spotify Connect, Tidal and Deezer, while its HEOS multi-room technology also sports Alexa voice control. You can stream audio in hi-res quality up to 24-bit/192kHz, as well as single and double speed DSD files.
Wondering why the X8500H is titled an "AVC" rather than the more usual "AVR"? The AVC-X8500 is called an AV amplifier rather than an AV receiver, for the simple reason that it doesn't have an FM tuner built in (like the US model), so you can't call it a 'receiver'. It does have a tuner input in case you want radio reception, though.
MORE: DTS:X - what is it? How can you get it?
Verdict
There's plenty to admire about the Denon AVC-X8500H. This is a grand amplifier with exhaustive, class-leading features and a cinematic scale of sound that will entice many.
It might not have grabbed our attention in every single way – especially for its price and flagship status – but it is a powerful beast and deserves an audition in your home cinema.