Yamaha YAS-306 Full Spec Sound Bar ( DU )
SKU:
Yamaha YAS-306 ( DU )
Full Spec Sound Bar, Showroom Display Unit
*With original packing with 18 months warranty by Yamaha Malaysia
YAS-306
The stylish and smart choice for every home. A living room staple with powerful surround sound, MusicCast technology and Clear Voice volume balance.
這個Soundbar擁有時尚設計,讓你透過時髦的機身就能輕鬆享受環繞聲。 來自雙超重低音的豐沛低音,並支援MusicCast,拓展你家中的影音娛樂系統。
AIR SURROUND XTREME provides powerful 7.1ch surround sound
MusicCast for audio enjoyment in every room
Bluetooth® for wireless music streaming
Supports Bluetooth output for pairing YAS-306 and other Bluetooth equipped products
AirPlay® allows music streaming from Mac, PC, iPod®, iPhone®, iPad®
Support for internet radio and various music streaming services
Supports 192 kHz / 24-bit High Resolution Music (Flac / WAV / AIFF)
Built-in subwoofer x 2, Bass reflex port x 2 for deeper bass
Sound Mode (MUSIC, MOVIE, SPORT, GAME and TV)
Clear Voice makes dialogue and narrations easy to listen to
Compressed Music Enhancer with Bluetooth®
Control app for easy operations (MusicCast CONTROLLER)
Wall-mountable with flexible orientation
AIR SURROUND XTREME 提供大迫力 7.1ch 環繞音
MusicCast 讓你在每個房間都能享受音樂
Bluetooth® 無線音樂串流
支援Bluetooth輸出,讓另一個Bluetooth產品與YAS-306配對。
AirPlay® 讓音樂從Mac, PC, iPod®, iPhone®, iPad®串流
支援網路電台以及多種音樂串流服務
支援 192 kHz / 24-bit 高解析音樂 (Flac / WAV / AIFF)
內建超低音 x 2 、低音反射孔 x 2 呈現更深沉的低音
聲音模式(音樂、電影、運動、遊戲及電視)
Clear Voice 讓人聲更加清晰易聽
Compressed Music Enhancer 壓縮音樂增強裝置
免費 APP提供簡易操作 (MusicCast CONTROLLER)
可壁掛,安裝彈性。
AIR SURROUND XTREME Provides Spacious Home Theatre Experience
Yamaha's leadership in one bar surround sound systems is further solidified with the introduction of AIR SURROUND XTREME, made possible by applying our unique 24 kHz HRTF (head related transfer function) surround technology.
It allows you to listen to clear dialogue and other sounds from the front, specific sounds from the other channels to the sides and rear, and smooth sound movement around you.
You won't believe the sound is coming from a one bar system!
AIR SURROUND XTREME 提供廣闊的家庭劇院體驗
Yamaha 在Soundbar的環繞聲音系統 AIR SURROUND XTREME的進一步發展,Yamaha新增了獨特的24 kHz HRTF(頭部頭部相關傳輸函數) 環繞科技。
它讓你能夠聽見來自前方的清晰對話或是其他聲音、來自側方以及後方的其他聲道特定聲音以及環繞你的聲音的平順移動感。
你不會相信聲音是來自於同一個Soundbar!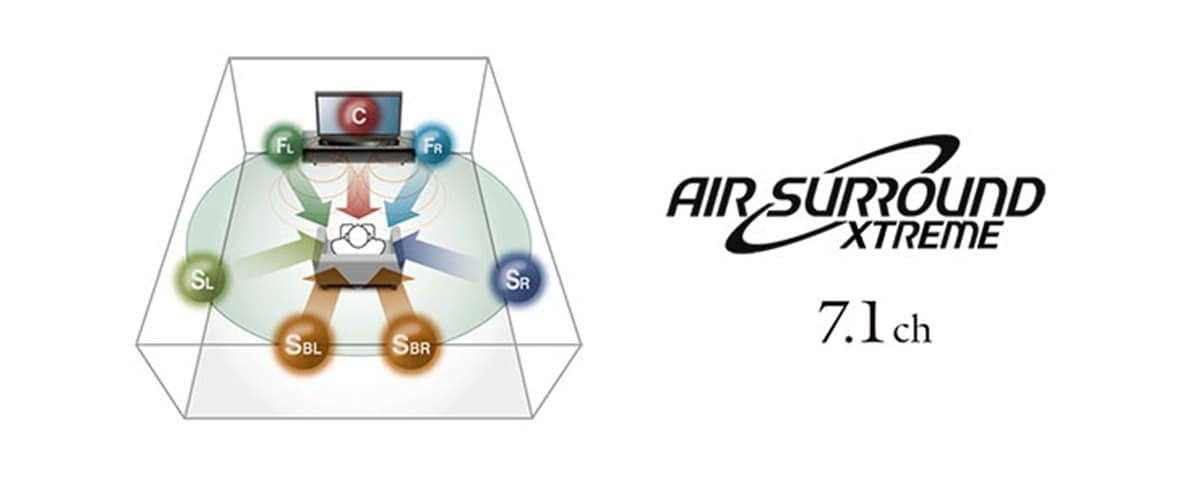 MusicCast
MusicCast is a new revolution in network audio, use all your MusicCast products together or separately, it's completely up to you. Control it, all from one app, designed to be intuitive, quick and simple to use. Use a soundbar, a wireless speaker, an AV Receiver, Hi-Fi audio whichever suits you best, mix and match then expand your MusicCast system as time goes on. All new from Yamaha, the MusicCast system brings everything to everywhere for everyone.
MusicCast
MusicCast是新的網路音訊革命技術,可以單獨或一起使用。只需要透過一個簡單易用的App就能控制。依照你的需求單獨會搭配soundbar、無線喇叭、AV接收擴大機或HiFi裝置擴大你的MusicCast系統。來自Yamaha全新的MusicCast系統,適合所有人、所有地方。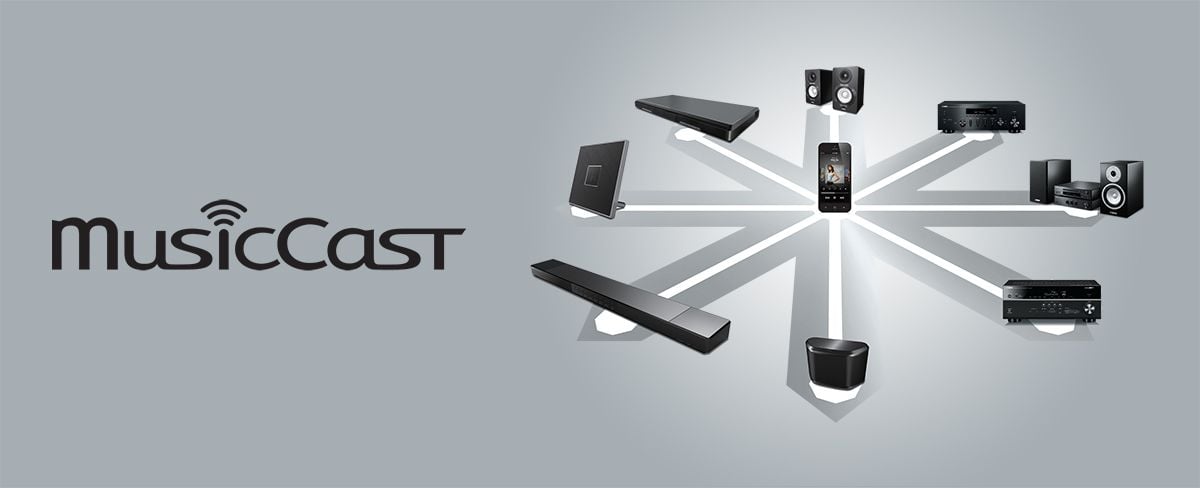 Enjoy All Your Music Sources
MusicCast employs a high performance wireless network to deliver music and audio enjoyment. It can stream digital music content from your smartphone, PC or NAS to other MusicCast devices in your home. It can also share the music from external devices such as a TV or Blu-ray player connected to the YAS-306. Audio content from Bluetooth-connected smartphones or tablets can also be streamed to MusicCast devices in multiple rooms.
享受所有的音訊來源
MusicCast使用高效能無線網路傳送音訊,他可以從你的智慧型手機、電腦或NAS串流音樂至家中其他MusicCast裝置,還可以分享連接至YAS-306例如電視或藍光播放器的外部裝置。透過藍牙連線的智慧型手機或平板電腦也可以透過MusicCast串流播放音樂至多個空間。

Stylish Body for a Beautiful Installation
With a rounded form that will help to beautify your interior, the YAS-306 can be placed on a shelf or hung on a wall, whichever style suits your room.
時尚機身與美化空間的安裝
圓弧形的機身設計,符合家中的裝潢擺設。你可以選擇適合空間的安裝方式,YAS-306可安裝於櫃上或是壁掛於牆上。

High Quality Material and Design Match with the WX-010
The YAS-306 body has a high-grade covering made of a materials that doesn't show dust so much.
This is the same material and color used for the WX-010, so the two units go well together.
高品質材質與符合WX-010的設計
YAS-306機身使用高端的材質,讓灰塵不易顯現。
使用與WX-010相同的材質與顏色,讓此兩個系統能夠完美搭配。

Powerful Surround Sound From Any Position
The YAS-306 unit includes two built-in subwoofer units for strong bass output, plus a unique bass reflex port for further boost. It also has two middle size woofer units and tweeter units that deliver well-balanced midrange sound and clear high tone. Whether used horizontally or vertically, or mounted on a wall, you're assured of getting massive bass output for a powerfully dynamic surround sound experience.
* The YAS-306 detects when it is wall mounted and automatically provides high frequency sound from the woofer unit.
來自任何地方的強勁環繞音
YAS-306 內含2個超重低音單體,提供強勁低音輸出,再加上獨特的低音反射孔更加延展低音效果。YAS-306 也搭載兩個中型尺寸的低音單體與高音單體,傳達良好平衡的中音域與清晰的高音音調。不管是水平、垂直或是壁掛於牆上,都可以接收到強大的低音輸出與大迫力的動態環繞體驗。
* YAS-306 安裝於牆上時,會自動偵測並提供來自低音單體的高頻率音。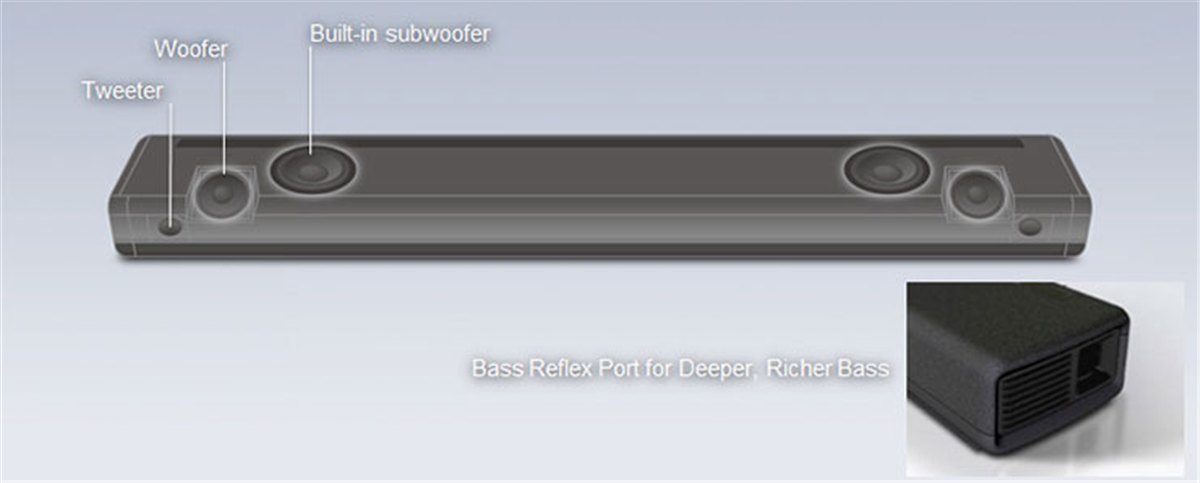 Specially Designed Speaker Unit
特別設計的揚聲器單體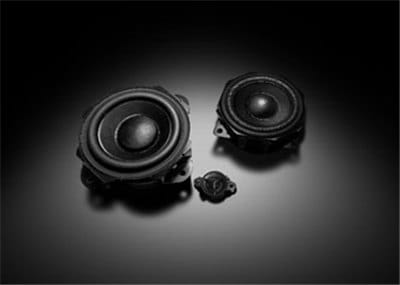 The YAS-306 features a high quality speaker unit designed especially for it.
The tweeter, woofer and subwoofer units are all well balanced and optimised to produce both massive bass with excellent response and clear, highly listenable treble.
AS-306 搭載一個特別為其設計的高品質揚聲器單體。
高音、低音與超低音單體皆為良好平衡設計,傳達廣大的低音、優質的響應與清晰的高音。
Control app for easy operations
Simply tap the beautifully designed screen and take control of all the audio equipment and all the music in your home.
免費 App 提供簡易操作
簡單點擊美觀設計的螢幕即可控制家中所有的音訊設備及音訊來源。

Stream via Bluetooth® or AirPlay®
You can hear all the music sources from your smartphone via wireless Bluetooth® or AirPlay® connection.
You can play music from music apps, radio apps, or YouTube™-type video hosting services.
從Bluetooth®以及AirPlay®串流音樂
你可以由你的智慧型手機透過無線Bluetooth®或AirPlay®連結傳送音樂。
你也可以由音樂App,電台App或是像YouTube™等的視訊託管服務中傳送音樂。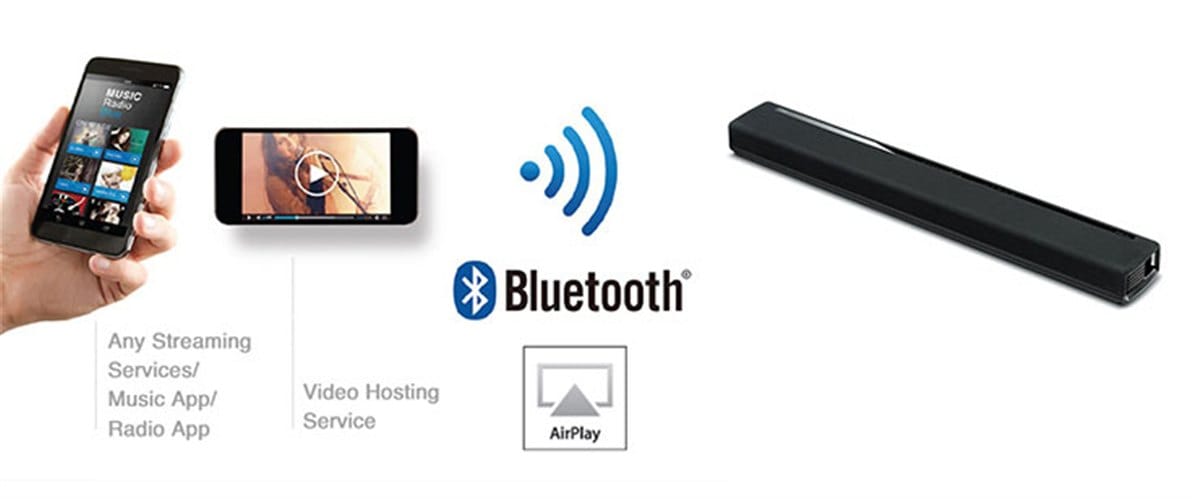 Bluetooth Output for Convenient Music Streaming
The YAS-306 is equipped with the latest Bluetooth technology, making wireless operation more convenient than ever. You can stream music from the YAS-306 to Bluetooth headphones for private listening or to Bluetooth speakers.
方便音樂串流的藍牙音訊輸出
YAS-306具備最新最方便的藍牙技術。你可以透過YAS-306傳送音樂到藍牙耳機獨自聆聽,或者到藍牙喇叭上播放。

Five Surround Programmes
Providing Surround Programmes with an overwhelming sense of presence and dynamic bass reproduction, the YAS-306 raises the emotion and excitement level so it's like you're watching the movie at a theatre and listening to music at a live event.
*You can select Surround Programmes by using MusicCast Controller App.
五種環繞程式
提供環繞程式,傳達壓倒性的臨場感與重現動態低音。YAS-306 提高情緒與興奮的聲音等級,就像你在電影院看電影以及在音樂表演場所聽音樂一般。
* 你可以使用MusicCast App選擇環繞程式。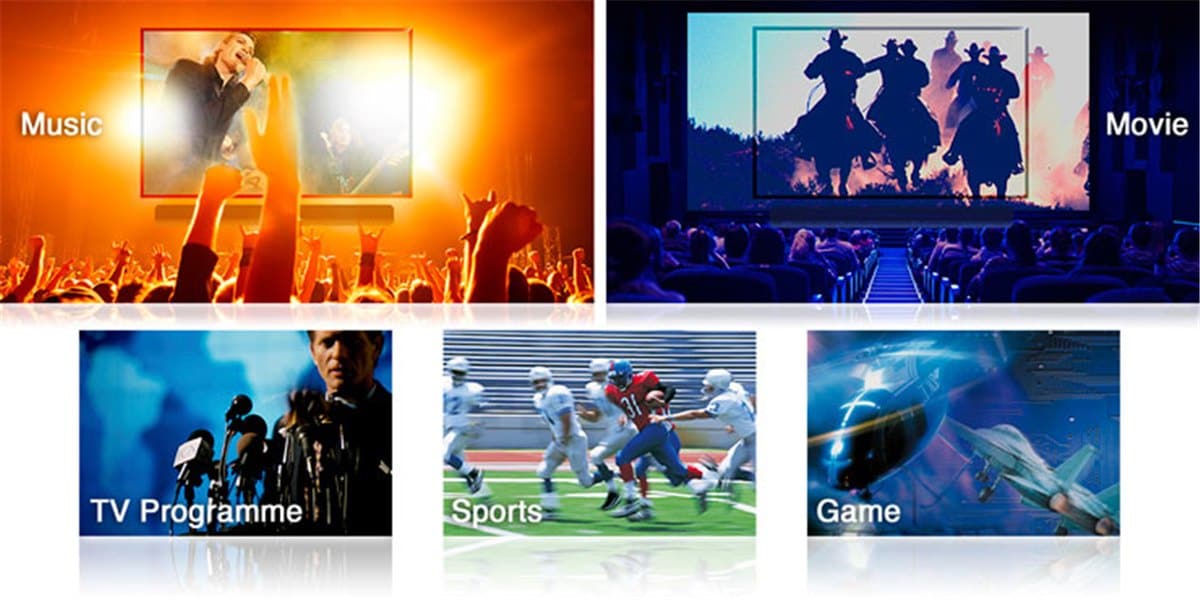 Compressed Music Enhancer
壓縮音樂增強裝置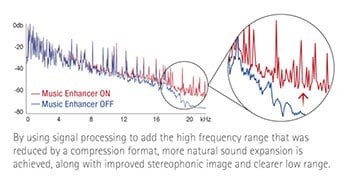 The Compressed Music Enhancer restores frequency response lost during digital compression, so your music sounds the way it should. It is optimised for Bluetooth® audio transmission for vivid, lively sound quality during wireless playback. The function engages automatically when a compressed source is played.
音樂壓縮增強器可以恢復音樂在壓縮過程中所減損的頻率響應,讓音樂聽起來如同原本該有的音質。它適用於藍牙音樂傳輸的壓縮內容,帶給你生動、有生命力的聲音品質。當壓縮音樂播放時,此功能會自動運作。
Clear Voice
Clear Voice raises the level of dialogue and narrations while maintaining overall sound quality. Movies and TV shows, sports commentary and news broadcasts are more clearly audible.
Clear Voice
Clear Voice提升對話與旁白同時維持整體音質,電影與電視節目,體育評論與新聞播報更清晰

YAS-306
Front Surround System
General Drivers Dual 5.5 cm (2-1/8") woofers, Dual 1.9 cm (3/4") tweeter, Dual 7.5 cm (3") built-in subwoofers
Output Channel 7.1-channel
Output Power (Front L/R) 30 W + 30 W (6 ohms, 1 kHz, 10 % THD); (Subwoofer) 60 W (3 ohms, 100 Hz, 10 % THD)
Power Consumption 22 W
Standby Power Consumption 0.3 W (LAN, Wi-Fi, Bluetooth Off), 1.9 W (LAN, Wi-Fi off, Bluetooth on)
Dimensions (W x H x D) 950 x 72 x 131 mm; 37-3/8" x 2-7/8" x 5-1/8"
Weight 4.9 kg; 10.8 lbs.
Input / Output Digital Optical 1 in
Digital Coaxial 1 in
Analog Audio 1 in
Subwoofer output Yes
Sound Technology Surround Technology AIR SURROUND XTREME
Sound Programmes Music, Movie, Sport, Game, TV
Compressed Music Enhancer Yes (for Bluetooth)
Bass Extended Yes
Audio Formats Dolby Digital Yes
Dolby Pro Logic II Yes
DTS Yes
File Format MP3, WMA, MPEG4 AAC, Apple LossLess(*1), WAV(*2), FLAC(*2), AIFF(*2) --- (*1) up to 96 kHz (*2) up to 192 kHz
Connectivity Wireless Music Streaming Yes
Wi-Fi Yes
AirPlay Yes
Bluetooth Version/Profile (Version) Ver. 2.1 + EDR / A2DP, AVRCP; (Codec) SBC, AAC
Bluetooth Maximum Communication Range 10 m (33 ft) without obstructions
Ethernet Yes
Other Features App Control Yes
TV Remote Repeater Yes
Learning Function Yes