Denon AVR-X3500H 7.2Ch Atmos Network Av Receiver
SKU:
Denon AVR-X3500H
RM 4,899.00
7.2Ch Atmos Network Av Receiver Brand New, Latest Model
What HiFi? 5 Stars Award Winner!

Free 1 x (Pair) Earthquake R800 8" Atmos Ceiling Speaker + Pro Av FG15 Power Cable 1.5Meter While Stock Last.

Magazine Review Available Now, Please Press Review Button Below.
AVR-X3500H
The AVR-X3500H 7.2 channel AV Surround Receiver offers the ultimate home theatre experience with Dolby Atmos and DTS:X, unparalleled music playback options, thanks to our built-in HEOS technology, Apple AirPlay 2, and Amazon Alexa voice compatibility for seamless control.
Now available – voice control with Amazon Alexa, Siri via Apple AirPlay 2, and Google Assistant
AMAZING 3D-SOUND.
Enjoy a superb surround sound experience with the latest audio formats including Dolby Atmos, DTS:X and DTS Virtual:X. The AVR-X3500H's 7 amplifier design means, you can run two dedicated overhead speakers in a 5.2.2 configuration or simple 7.2ch without any overhead speakers.
POWERFUL 7.2 CHANNEL AMP WITH ECO MODE.
Featuring high current discrete power output devices on all channels, the AVR-X3500H delivers high power and is rated at a maximum of 180 watts per channel. There's also an Auto Eco mode that adjusts the maximum power available according to the volume level as well as an on-screen Eco meter that lets you see the power consumption reduction in real time.
READY FOR THE FUTURE OF HOME CINEMA.
The AVR-X3500H's advanced video section is fully compatible with the latest HDMI and HDCP 2.2 specifications and prepared for any 4K Ultra HD source. High Dynamic Range (HDR), Dolby Vision compatibility, Hybrid Log Gamma (HLG) and eARC (enhanced Audio Return Channel) are at hand as well. You can also enjoy ultra-high-definition pictures from legacy analogue and digital sources.
THE HEART OF YOUR WIRELESS NETWORK.
Every sound, all your music, controlled effortlessly. Full wireless connectivity is provided via both Wi-Fi and Bluetooth, Apple Airplay 2 is supported. The built-in HEOS technology allows the AVR-X3500H to become the app-controlled heart of a whole-house wireless multi-room sound network.
PERFECT SET-UP FROM THE START.
The AVR-X3500H easily guides you through the set-up process to ensure the most accurate configuration. Optimize all settings for the best possible sound and video quality with your system from the get-go. The most advanced Audyssey MultEQ XT32 room measurement system provides for best sound in every room.
AMAZON ALEXA VOICE CONTROL.
Control the AVR hands-free with Amazon Alexa and your voice. Adjust the volume, skip to the next track, switch inputs for your different media players and more — "Just Ask." Download the HEOS Home Entertainment Skill to enable Amazon Alexa voice commands for your AVR-X3500H, HEOS devices and other select Denon products. Amazon Echo device required.
BLOCKBUSTING 3D-SOUND.
Surround yourself in cinema-grade sound from literally any direction.
DOLBY ATMOS
SOUND IN THE RIGHT PLACE.
Feel every dimension in Dolby Atmos. Dolby Atmos transports you into the story with moving audio that flows all around you with breathtaking realism. Enjoy a 5.2 surround sound speaker system and 2 additional overhead speakers or 2 Dolby Atmos elevation speakers for the ultimate home theatre experience - including Dolby Surround upmixer for legacy content.
DTS:X
BE CLOSER TO THE ACTION.
DTS:X™ immersive audio places sound where it would occur naturally in space, creating a lifelike, multi-dimensional audio experience in the home. The improved immersion and heightened realism draw you into the world of your favourite movies. The included spatial remapping engine, DTS Neural:X™, gives your movie, game and music collections a new lease on life! With DTS Virtual:X you can enjoy an 3D audio experience even without installed overhead speakers. DTS:X brings the theatre home.
GEARED UP FOR 4K ULTRA HD.
Enjoy ultra-high-definition pictures, even from analogue and digital SD sources.
LATEST HDMI SPECS WITH EARC
FUTUREPROOF IN ANY WAY.
All eight HDMI inputs and two HDMI outputs feature HDCP 2.2 compatibility and the latest HDMI specifications, including 4K Ultra HD 60Hz video, 4:4:4 Pure Color sub-sampling, High Dynamic Range (HDR), Dolby Vision compatibility, HLG support and 21:9 video, 3D, and BT.2020 pass-through support. It is even ready for Enhanced Audio Return Channel (eARC) for 3D audio broadcast over TV.
ADVANCED VIDEO SECTION
BREATH NEW LIFE INTO LEGACY SOURCES.
The AVR-X3500H owns an advanced video processor to upscale existing lower resolution video from any analogue or digital source to true 4K. With three HDMI outputs, you can even connect a TV and a projector in the main room, while playing back different content on a second zone screen.
HDR / DOLBY VISION
NEXT GENERATION VIDEO FORMATS.
The AVR-X3500H supports High Dynamic Range (HDR) video format. It is even Dolby Vision compatible and supports HLG (Hybrid Log Gamma). Dolby Vision transforms the viewing experiences with astonishing brightness, contrast, and colour. HLG offers HDR technology over broadcast content.
SET-UP AND CONNECT WITH EASE.
Get your AVR-X3500H up and running in no time, perfectly tailored to your needs.
AUDYSSEY MULTEQ XT32
MEASURE YOUR SOUND TO YOUR ROOM.
The AVR-X3500H features the most advanced Audyssey MultEQ XT32 room acoustic measurement system including Audyssey Dynamic Volume, Dynamic EQ, LFC and SubEQ HT. Through these technologies, and with the supplied microphone, it exactly analyses each speaker's output to optimize the overall listening experience. With the additional Audyssey MultEQ Editor App (available for purchase), very advanced users can even go further "under the hood" if desired.
CONNECTIVITY
UNWIRE YOUR SOUND.
The AVR-X3500H is equipped with an advanced dual antenna system for robust and error-free streaming, featuring Bluetooth and Wi-Fi connectivity as well as Apple's AirPlay 2 for direct music playback from Apple's iDevices.
HEOS + ALEXA
EVERYTHING UNDER CONTROL.
With the "Denon AVR Remote" app you can control the receiver's operation and even control your connected Denon Blu-ray player. With the HEOS app you easily command your music and multi-room streaming. Or control your system with your voice using the Amazon Alexa voice compatibility.
QUICK SELECT
CHOOSE YOUR FAVOURITE SOURCES.
Store your preferred set-up and sound mode for every source, so that you can jump right to them by the push of a button on the front panel and the remote control.
ADVANCED SOUND PROCESSING.
Experience extraordinary sound quality from both music and movies.
DSP
POWERFUL DSP AUDIO PROCESSING.
The AVR's DSP (Digital Sound Processor) chip features tremendous processing power with 4 300-MHz DSP cores that can process over 1 billion computations per second.
HIGH RESOLUTION AUDIO
ENJOY SUPERB AUDIO FIDELITY.
The AVR-X3500H features high resolution audio decoding with multiple lossless file types including ALAC, FLAC and WAV at up to 24-bit/192-kHz along with compatibility for 2.8/5.6-MHz DSD files (DSD is the audio coding format of SACD).
MULTI-SOURCE/MULTI-ROOM
FLEXIBILE ZONE PLAYBACK.
With the AVR-X3500H it's possible to enjoy 5.1-channel surround in one room, while another 'zone' plays another source—such as CD, streaming audio, or HDMI source on speakers powered by the AVRs built-in amplifiers.
32-BIT D/A CONVERSION
BEST POSSIBLE SOUND STAGE.
For optimum fidelity and the widest dynamic range with lowest distortion, the AVR-X3500H features advanced reference-class 32-bit AKM D/A converters on all channels. This ensures consistent high fidelity and precise channel matching across all channels for the ultimate listening experience.
GET THE AMAZING HEOS EXPERIENCE.
Enjoy your favourite music anywhere – and everywhere – around your home. Share music stored on your home network, Internet radio or streaming services with HEOS wireless speakers, or even other HEOS-capable receivers, throughout the house. Control it all with the free HEOS app. Enjoy music from Spotify, TuneIn Internet radio, Amazon Music, Sound Cloud, Tidal, Napster or Deezer.
HEOS + ALEXA – SPEAK YOUR COMMANDS.
Use your voice to stream your favourite music services to this HEOS-enabled device. Ask Alexa to play music from Amazon Music, Spotify, and more. You can also turn the volume up or down, pause, mute and play the next song — all with your voice.
To start streaming with Alexa voice commands, open the Alexa app and select "Skills." Add HEOS Home Entertainment to enable. Then, go to Smart Home in the Alexa app menu and choose Devices and Discover or say "Alexa, discover my devices."
With HEOS Home Entertainment and Alexa, you can stream to this product and any other HEOS-enabled device. Play music from Amazon Music, Spotify, and TuneIn with more streaming services also to come. All you have to do is ask.
AIRPLAY 2
Stream audio from your favourite music services like Apple Music and Spotify or watch videos from services like YouTube and Netflix from any iPhone, iPad, Mac or Apple TV all while the audio is perfectly synced to your speakers AirPlay 2 sources.
AirPlay 2 also supports multi-room audio. This allows you to wirelessly stream content to multiple AirPlay 2 compatible devices simultaneously with improved audio buffering to ensure smooth audio playback. AirPlay 2 provides control and grouping of compatible audio devices within the Apple Music or Home app. Use Airplay 2 in-app or with your voice via Siri.
GOOGLE ASSISTANT
Ask your Google Home, Google app or other devices with Google Assistant built-in to control content across your listening environment. Start music in the HEOS app, then ask your Google Assistant to control volume, play, pause, skip tracks and more. 'Works with the Google Assistant' feature is always improving — further enhancements arrive in 2019.
SELECT THE PERFECT HEOS FOR YOUR SETUP.
The AVR-X3500H's built-in HEOS technology allows you to stream your favourite music wirelessly around your home to any other HEOS speaker.
PHONO INPUT FOR TURNTABLE / VINYL SUPPORT
With the included phono input, the AVR-X3500H lets you connect your turntable and play vinyl records. Enjoy your vintage collection with exceptional quality and sound
EXTERNAL CONTROL AND IP CONTROL CAPABILITIES.
The AVR-X3500H is equipped with a range of features to provide enhanced control capabilities and compatibility with 3rd party and custom integration solutions including Crestron Connected.
It can be set up and operated by a home computer on the network via IP control, either via wired LAN connection or Wi-Fi. For direct connection to external home automation and control equipment, it's also equipped with an RS-232C serial port.
For simpler integrated control set-ups, the AVR-X3500H features an IR (infrared) remote control input on the rear panel, allowing remote control compatibility with other components in your home theatre system.
The SRM - Smart Remote Management feature let's CI dealers connect via ihiji or Domotz for system maintanance from a remote distance.
Amplifier

Channels

7.2

Output Power

105 W per channel @ 8 Ohms, 20 Hz to 20 kHz, 0.08% THD

Object-Based Audio Support

Dolby Atmos (up to 5.1.2), DTS:X (up to 5.1.2), DTS Virtual:X

Video

Pass-Through

4K/60 Hz, 4:4:4 color resolution, HDR10, HLG, Dolby Vision, and BT.2020

HDCP Version

2.2

Connectivity

Tuner

AM / FM

Wireless Connectivity

Bluetooth, dual-band Wi-Fi, Apple AirPlay 2

Inputs

8 x HDMI (1 front)
2 x optical TOSLINK
2 x digital coaxial
2 x component video
3 x composite video
6 x stereo RCA audio (1 phono with ground screw)
1 x USB (front)

Outputs

3 x HDMI
1 x component video
2 x subwoofer pre-out
1 x Zone 2 stereo pre-out
1 x 7-channel pre-out
1 x 1/4" / 6.35 mm headphone out (front)

Other Ports

1 x 1/8" / 3.5 mm setup microphone input (front)
2 x Wi-Fi / Bluetooth antennas
1 x FM antenna
1 x AM antenna
1 x Ethernet LAN
1 x 1/8" / 3.5 mm IR remote in
1 x 1/8" / 3.5 mm IR remote out
1 x RS-232C DE-9
1 x 1/8" / 3.5 mm 12 VDC / 150 mA trigger out

Speaker Connectors

7 x color-coded binding post pairs

HDMI CEC

Yes

General

Dimensions (W x H x D)

17.1 x 6.6 x 15" / 434 x 67 x 381 mm

Weight

23.8 lb / 10.8 kg

Denon AVR-X3500H review By What Hi Fi
What Hi-Fi? Awards 2018 winner. Denon's on a roll with its new AV receivers Tested at £899
By What Hi-Fi?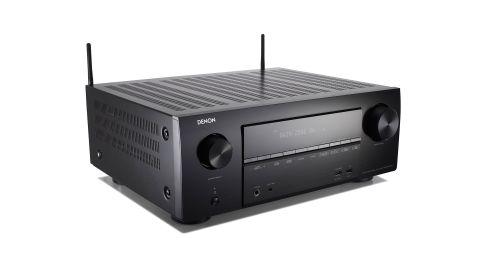 OUR VERDICT
The AVR-X3500H represents further gains for Denon in the home cinema market, with added features and even more powerful performance
FOR
More powerful than its predecessor
Detailed, full-bodied and musical
Alexa and AirPlay2
AGAINST
POWERED BY
Maintaining supremacy in the marketplace isn't usually achieved by standing still. Nor is it brought about by completely remapping the route that led to success in the first place.
Denon knows that inertia leads to stagnation, so the key is finding a balance between small but effective alterations and making empty revisions simply for the sake of it.
The question is not so much whether Denon can convince its customers to upgrade their systems every year, but that it remains at the forefront of home cinema amplifier design, especially at entry-level and mid-range price points. Thankfully, the AVR-X3500H takes a step forward from its already class-leading predecessor.
Build and features
The fundamentals remain the same – the AVR-X3500H is a 7.2 channel amp, with two of the channels assignable as either surround back or for height, making use of Dolby Atmos, DTS:X and DTS Virtual:X technologies.
Physical connections are similar to those on last year's model, the AVR-X3400H, with eight HDMI inputs and three outputs, each capable of 4K HDR pass-through. Denon has also added a phono input.
In line with the company's desire to progress this range from home cinema amps to a home entertainment hub, the major additions to this year's feature list are Alexa Voice Control and Apple AirPlay2. The amp can also be a hub for a HEOS multi-room set-up.
Under the bonnet, the changes are consistent with Denon's little-and-often approach to upgrading parts. The company has revealed that the DAC, DSP, power transformer, block capacitors and mechanics have remained unchanged, though they were already at a high level for the price.
Instead, Denon has focused on bettering the surrounding parts, making component changes to the pre-amplifier power supply, power amplifier and DAC circuit. These changes have led to marginal, but effective, gains in the amplifier's overall performance.
Set-up is guided by the on-board Audyssey software, which is still one of the most accurate, speedy and easy-to-use system we've come across. It takes us step-by-step through speaker configuration and automated level adjustments.
Sound
From there, it's business as usual as the AVR-X3500H greets us with Denon's recognisably bold and open soundstage, ticking boxes across the board while allowing us to become immersed in whichever source we choose.
When we reviewed this amp's smaller sibling, the AVR-X2500H, we celebrated the muscle it had gained over its predecessor. The AVR-X3500H had no such ground to make up, but it soon becomes clear that Denon has focused on added authority across the range.
It is comfortable driving our reference PMC Twenty5 package through the rumbles and thumps of a high-action thriller, with the added solidity felt across the board as voices and soundtracks benefit from its authority and stability.
TECH SPECS
Channels 7.2
Power 180W per channel
HDMI inputs 8x HDMI 2.2
HDMI outputs 3
Dimensions (hwd) 43.4 x 16.7 x 39.1cm
Weight 10.8kg
That even but full balance is also unchanged, with plenty of detailed low-end not only making the action more convincing, but also delivering a performance that is consistently easy on the ears. With so much power, you could easily become fatigued by the intensity, but this Denon has a knack of being welcoming even when conveying the most chaotic scenes.
Denon has managed this without forgoing subtlety or dynamics. The AVR-X3500H is as comfortable placing its light touch over staid drama as it is providing the punch in an action-heavy scene. It proves its ability to change gears as and when the source material demands.
This approach translates to music playback too, which is why Denon has placed the focus on the AVR-X3500H as an all-round entertainment system rather than simply pass-through for your home cinema.
Where so many AV amps struggle, this one delivers music consummately with the rhythmic and dynamic understanding we'd expect from a stereo counterpart. Though it can't compare with a dedicated stereo amplifier, we are more than happy listening to it drive our PMC Twenty5.23s.
Verdict
Denon appears to have its route to continued success figured out. Its extensive listening tests, as it makes those annual tweaks to its home cinema amplifiers, are clearly a fruitful guide.
In terms of both features and performance, the AVR-X3500H nudges a little further ahead of its predecessor. And that is another credit to Denon.
SCORES
Sound 5
Features 5
Build 5