Monitor Audio Gold 100 Bookshelf Speaker
SKU:
Monitor Audio Gold 100
Bookshelf Speaker Brand New (High Gloss Black)

18 Months Warranty

Magazine Review Available Now, Please Press Review Button Below.
Gold 100
The Gold 100 is a larger two-way stand mount speaker featuring a 6.5" RST bass driver and C-CAM ribbon.
Operating with the performance of a typical 8" driver, our proprietary 6.5" design provides higher overall efficiency with dynamic headroom to deliver impressive bass extension and control.
The 100's uncomplicated 2-way configuration renders complex material with tonal accuracy and perfect timing. Optional, dedicated floor stands are available.
This product is now available to use with home theatre design software, The Cinema Designer. Read more.
Technology
C-CAM (Ceramic-Coated Aluminium/Magnesium) ribbon transducer design – providing extension to a class leading 60 kHz
HiVe II port technology for better transient response and tighter bass
New C-CAM RST (Rigid Surface Technology) bass/mid-range driver
Single bolt through driver fixings for improved bracing, rigidity and driver/baffle de-coupling
Die-cast alloy terminal panel arrangement with high quality bi-wire terminals and high end spade type link cables
Pureflow silver internal cabling
Selected premium quality wood veneer or high gloss lacquer finishes
Rigid 20 mm MDF construction throughout, employing radial and cross-bracing techniques for high rigidity resulting in low cabinet colouration
Invisible magnetic grille fixings provide a sleek visual effect.
Specification:
System Format
2-Way

Frequency Response
42 Hz — 60 kHz

Sensitivity (1W@1M)
88 dB

Nominal Impedance
8 ohms

Maximum SPL
112.6 dB

Power Handling (RMS)
120 W

Recommended Amplifier Requirements
60 — 120 W

Bass Alignment
Bass reflex - HiVe II port system

Crossover Frequency
2.7 kHz

Drive Unit Complement
1 x 61/2" RST bass/mid-range driver
1 x C-CAM H.F ribbon transducer

Cabinet Dimensions (H x W x D)
362 x 210 x 303 mm
(143/8 x 81/4 x 1115/16")

Complete Dimensions (Including Terminals (H x W x D))
362 x 210 x 330 mm
(143/8 x 81/4 x 13")

Weight (each)
9.9 kg (21 lb 12 oz)

Review By HiFi Stereo.Net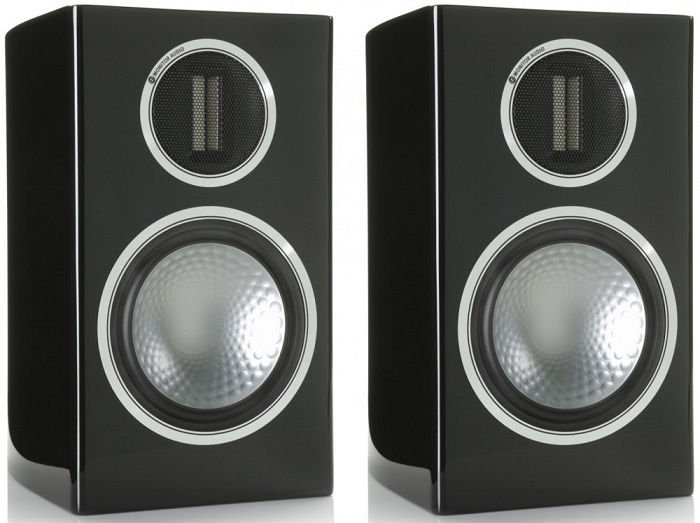 Monitor Audio Gold 100 speaker systems are the senior from the two shelf models of the line. Gold 100 significantly differs from Gold 50 by the most of specifications. A two-way "100" is equipped with two emitters: a 165-mm midbass driver and tape tweeter. The first one together with back HiVe®II port fixes the lower limit of 42 Hz in the frequency range (almost extremely deep bass for shelf system), the latter "finishes off" to cosmic 60 kHz (also a record). Frequency rights of the emitters are separated by the frequency of 2,7 kHz.
One of the most constructive features of Monitor Audio Gold 100 is the mount of LF/MF speaker to the back wall by one screw bolt, due to which the construction becomes more rigid and vibrations of the driver are less imparted to the body. The bodies of the speaker systems are made of MDF plates and reinforced by radial ribs-cross bars.
There are no sharp vertical couplings in the speaker systems - corresponding surfaces smoothly flow into each other by the chamfers of small radius. Vertical surfaces are joined with horizontal ones at right angles. Protective meshes are conveniently mounted on hidden magnets; the meshes are fabric unlike Gold GX (GX50, GX100, GX200, GX300, GXFX, GXW15). The speakers are neatly framed by the rings of shiny white metal - there are no fasteners here, which spoil the look, because the emitters are mounted to the rear wall of the body by the single bolt. Two pairs of high-quality screw speaker terminals for bi-wiring/amping are unexpectedly grouped - with a shift in vertical direction; contact parts of the terminals are anodized with gold. The speaker systems are perfectly decorated with wood veneer. All of these, undoubtedly, provide high aesthetic advantages of the model and the whole Gold line. Firstly as for design, it is preferable to place the monitors on the optional branded stands.
The listening to Monitor Audio Gold 100 gave us a lot of reasons, which allow us to certify the quality of the model's sound as very high. Light coolness of tonal balance, apparently caused by little and smooth rise in HF area, is easily compensated by a slight turn of the speaker systems to the side walls.
Monitor Audio Gold 100 shows quite correct perfectly detailed and articulated in the whole range sound of timbres with clear, three-dimensional and stable music scene. The most important tests - the recordings of academic grand piano and big symphonic orchestra - evidenced about that. A neat, focused, moveable and moderately deep bass made a good impression. Some lack of LF-energy while playing at large volume recording of, for example, a great cathedral organ or rock tracks with relief bass line can be hardly considered as a disadvantage of compact speaker systems. After all, the Monitor Audio Gold line has floor speaker systems too.